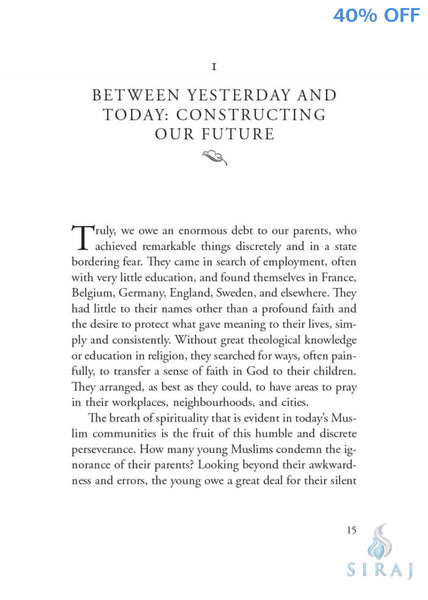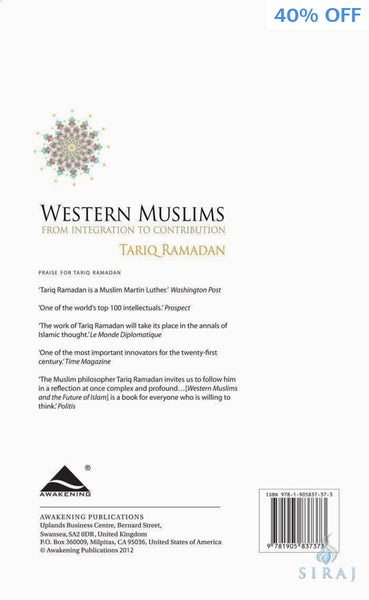 Claritas Books
Western Muslims: From Integration To Contribution
This book sheds light on the role of Western Muslims and offers paradigms for thought and civic engagement. The politics of integration is discussed and a dynamic roadmap for positive contribution is outlined. The author also highlights the mental paradigm shift required to make this contribution meaningful. Muslims must now reconsider the perception we have of ourselves, our environment and even our values.
From this time forward, it is imperative that we rethink our discourse, our rhetoric and our partnerships. Ultimately, we must refashion an education about ourselves, about the environment and with others. Every individual must appropriate his or her own responsibilities. Before God, in our souls, and in our consciousness we will only receive what we have earned.
Muslims must shape themselves, live and project their values and commit themselves. This is what God requires from the conscious, everyday lives of all faithful individuals. In the end, our way of life is evaluated by our way of giving and contributing to human welfare, to justice and to respectful diversity.
About The Author
Tariq Ramadan is Professor of Contemporary Islamic Studies at the University of Oxford (Oriental Institute, St Antony's College) and also teaches at the Oxford Faculty of Theology. He is a Visiting Professor at the Faculty of Islamic Studies, Qatar; Senior Research Fellow at Doshisha University in Kyoto, Japan; and Director of the Research Centre of Islamic Legislation and Ethics (CILE) in Doha, Qatar. He holds an MA in Philosophy and French literature and PhD in Arabic and Islamic Studies from the University of Geneva. In Cairo, Egypt he received one-on-one intensive training in classic Islamic scholarship from Al-Azhar University scholars (ijazat, or authorization to teach, in seven disciplines).
Through his writings and lectures, Tariq Ramadan has contributed to the debate on the issues of Muslims in the West and Islamic revival in the Muslim majority countries. He is active at academic and grassroots levels, lecturing extensively throughout the world on theology, ethics, social justice, ecology and interfaith as well intercultural dialogue. He is President of the European think tank: European Muslim Network (EMN) in Brussels. Latest books: "Au péril des idées " (French) with Edgar Morin, Presses du Châtelet (March 2014); "Islam and the Arab Awakening" OUP (September 2012); "The Arab Awakening: Islam and the New Middle East" Penguin (April 2012); "The Quest for Meaning, Developing a Philosophy of Pluralism" Penguin (2010); "What I believe" OUP USA (2009); "Radical Reform, Islamic Ethics and Liberation" OUP USA (2008).
Paperback: 32 pages
Publisher: Claritas Books
Language: English
Author: Tariq Ramadan
ISBN: 978-1905837373
Dimensions: 8.3 x 5.2 x 0.3