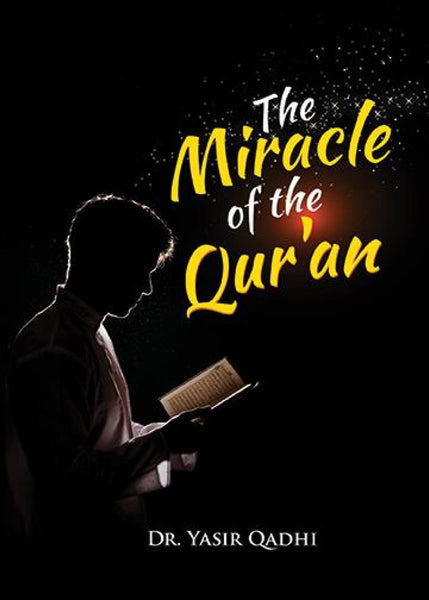 Tertib Publishing
The Miracle of The Qur'an
The Miracle of The Qur'an. The Qur'an is the greatest miracle of God (Allah) and the Qur'an is the proof of the truthfulness of Islam. It is the standing and everlasting miracle, but very rarely, have we heard how is it a miracle?

The Qur'an is the ultimate miracle of our Prophet Muhammad (Sallallahualahi wassalam - S.A.W). It is such a miracle that all the other miracles are considered trivial and inconsequential compared to the Qur'an. This is because the Qur'an is so powerful, so bright and blinding that no matter how bright the other miracles are; when you have the sun, the stars become useless.

In this book, Dr. Yasir Qadir discussed on the miracles of the Qur'an that we either have never acknowledged or we often overlooked. The miracles of the Qur'an are endless and the points are abundant to be mentioned.
About the Author
Dr. Yasir Qadhi was born in Houston, Texas and completed his primary and secondary education in Jeddah, Saudi Arabia. He graduated with a B.Sc. in Chemical Engineering from the University of Houston, after which he was accepted as a student at the Islamic University of Madinah.
After completing a diploma in Arabic, he graduated with a B.A. from the College of Hadith and Islamic Sciences. Thereafter, he completed an M.A. in Islamic Theology from the College of Dawah after which he returned to America and completed his Doctorate in Religious Studies from Yale University.
Currently, he is the Dean of The Islamic Seminary of America, the Resident Scholar of the Memphis Islamic Centre and a Professor at Rhodes College in Memphis, TN.
Paperback:
 54 pages
Publisher:
 Tertib Publishing
Language:
English
Author:
Dr. Yasir Qadhi
ISBN:
978-9672420026
Dimensions:
7 x 5 x 0.3 inches