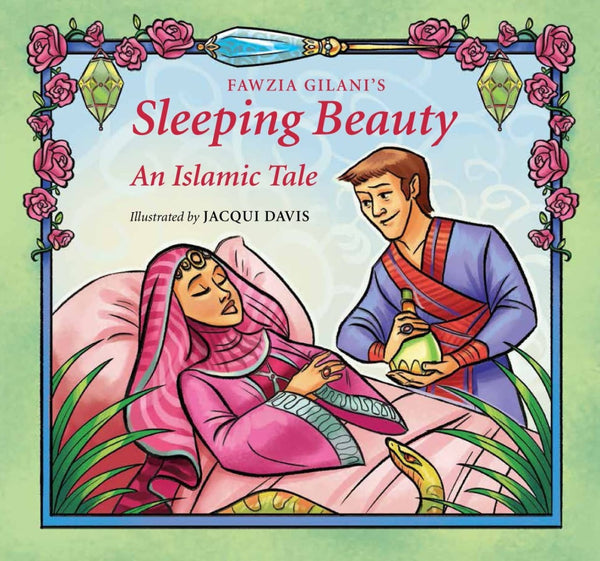 The Islamic Foundation
Sleeping Beauty: An Islamic Tale
Praise for other publications in the Islamic Fairy Tales series:
"Simple, colorful illustrations enhance this lovely recreation of a cherished fairy tale. . . . Cinderella: An Islamic Tale is highly recommended especially for children's public library multicultural picture book collections."—The Midwest Book Review
"In this version, the heroine is pious as well as pretty. . . . The full-color watercolors, with some Anatolian details in clothing and household goods, are attractive."—Kirkus Reviews, on Snow White: An Islamic Tale
After the wicked Count Lahab promises to crush the young princess Mariam at her aqiqah, she is hidden within the king's castle.
Many peaceful years pass, but, upon news of Mariam's wedding, they come to a piercing end. Count Lahab finds a way to deceive the castle and present her with a beautiful hijab pin, covered in poison, that leaves her in a deep, unbreakable sleep.
After potions and prayers have no effect on her husband, Haris is told to go on a perilous journey to Makkah to pray for her recovery and bring back zam zam water for her to drink. But, faced by Count Lahab and his outlaws, what does his destiny hold?
About Fawzia Gilani-Williams
Dr. Fawzia Gilani-Williams serves as a global representative for the International Positive Education Network. She is a research fellow for the Eid Stories Institute for Literary Studies and Peace Research in the UK and works for the Department of Knowledge and Education in the UAE. Born and raised in the UK, Fawzia earned a Ph.D in Children's Literature and Character Education from the University of Worcester.
She is an internationally experienced principal, teacher and researcher. Fawzia's areas of specialization include primary education, Islamic children's literature, and creative writing. Her research interests are child identity and empowerment, character development, and Islamic literary theory. She has written a number of 'mirror books' and 'window books' to promote intercultural literacy, emotional development and social flourishing.
She is the author of the Islamic fairy tale series produced by Kube, UK. Her titles include Cinderella, Snow White and Sleeping Beauty, which together underscore moral power, quiet heroism and multicultural cognizance. Fawzia's recent book, Yaffa and Fatima Shalom Salaam, illustrated by Chiara Fedele was awarded a silver medal by the Sydney Taylor Book Award.
Age Range:
 5 - 9 years
Grade Level:
 Kindergarten - 4
Series:
 Islamic Fairy Tales
Hardcover:
 40 pages
Publisher:
 The Islamic Foundation
Language:
 English
ISBN:
 978-0860375975
Dimensions: 
10 x 0.2 x 9.2 inches