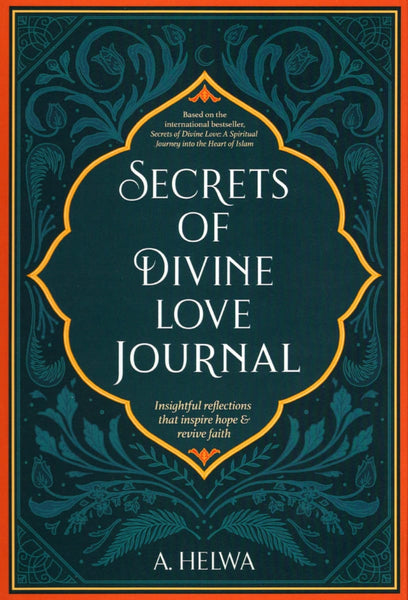 A. Helwa
Secrets of Divine Love Journal: Insightful Reflections that Inspire Hope and Revive Faith - Hardcover
Connect more deeply and authentically with Allah through the power of Journaling

The Secrets of Divine Love Journal is based on the award-winning book, Secrets of Divine Love: A Spiritual Journey into the Heart of Islam. Through heart-centered reflections, insightful prompts, and thought-provoking questions, Secrets of Divine Love Journal can help you foster a deeper relationship with Allah by connecting you with the heart of your faith in a more intimate and inspiring way.

The Secrets of Divine Love Journal will help you to reflect upon and enjoy your faith from a more holistic perspective. You will learn even more about the pillars, principles, and practices within the Islamic tradition through the Qur'an, hadith, spiritual teaching stories, and sayings from mystics like Imam Ghazali, Ibn Arabi, Rumi and countless others.

The Secrets of Divine Love Journal connects you more deeply with Allah through exercises and questions designed to help you:
Experience the love of Allah:

 

Discover divine love through inspiring stories, powerful verses from the Qur'an, and sayings of the Prophet Muhammad (pbuh).
Connect with your faith: The journal is filled with a 100+ thought-provoking prompts designed to give you the space to feel, reflect and ultimately return to Allah.
Transform every moment into prayer: Each journaling session begins and ends with a prayer of gratitude with the intention of allowing you to experience the transformative power of prayer.
Create connection with your faith community: The questions and prompts within the journal were written for both private contemplations, to be shared amongst friends or answered in book clubs.
Secrets of Divine Love Journal will follow chapter-by-chapter the Secrets of Divine Love book. The journal has additional reflections, stories, and quotes while supplementing each chapter with reflective prompts alongside ample space for the reader to journal. Each chapter of the Secrets of Divine Love Journal starts with a quote from Secrets of Divine Love alongside a verse of the Qur'an followed by a story and reflection, a heart-opening prayer, journal prompts, a quote to contemplate upon, and a closing prayer of gratitude.

If you are looking for a journal for Ramadan, a retreat, or just to deepen your connection with Allah Secrets of Divine Love Journal is perfect for you!

ABOUT THE AUTHOR

Writer A. Helwa has over 15 years of experience writing and speaking on Islam and personal development. Over the past several years she has inspired over 400,000+ readers through her passionate, poetic, and love-based approach to Islamic spirituality. Her popular blog @quranquotesdaily, was established while attending a Masters in Divinity focused on Islamic spirituality and peacemaking, as a means of helping others overcome personal and spiritual struggles on their journey of experiencing divine love. 
"A. Helwa's book, Secrets of Divine Love, is a magnificent accomplishment. So often we are asked where and how one accesses the inner heart of the Islamic tradition, and now I can say, here it is! Helwa does a beautiful job of taking us, no matter what our faith background, through the Qur'an, teachings of the Prophet, Rumi, and other mystical luminaries. 
- OMID SAFI, Professor of Middle Eastern Studies at Duke University and author of Radical Love: Teachings from the Islamic Mystical Tradition

"I am simply entranced by A. Helwa's metaphors and insights. The bulk of her sentences are poetry in motion and studded with pearls of wisdom. Fragrant with beauty. Many of the sentences are musical...Enchanting! The creative way Helwa has integrated her heart knowledge into her understanding of Islam is stunning."
- IMAM JAMAL RAHMAN, Author of Spiritual Gems of Islam

"A marvelous book that gives a sound grasp of this great religion and nourishment to the heart we deeply need. This book is a source of majesty and beauty."
- DR. FAWZIA AL-RAWI, Author of Divine Names: The 99 Healing Names of the One Love

Whether you identify as a Muslim whose faith has perhaps grown weary or as someone who would like to taste of the essence of a tradition you do not understand, Secrets of Divine Love is a masterful map of the landscape of the soul on its journey home to the One who both transcends and dwells within all that is."
- MIRABAI STARR, Author of God of Love: A Guide to the Heart of Judaism, Christianity and Islam 
  
"Secrets of Divine Love is the product of A. Helwa's earnest search for truth and meaning. It is also her invitation to us, the readers, to see what she has seen. This is a fascinating book that offers various profound insights and a vision of Islam--and indeed the Divine--that many readers will surely find enlightening and uplifting."
- MOHAMMAD KHALIL, Professor of Islamic Studies at Michigan State University

"Secrets of Divine Love opens with one word -- "Love." This word appears and reappears, until the reader comes to understand only a fraction of the ways that God pours His light on them...One regularly is flushed with examples of God's compassion, kindness, forgiveness, patience, and comfort. This is simply a wonderful book, written with care and precision, weaving us into God's beautiful tapestry."
- DR. NAZITA LAJEVARDI, Assistant Professor at Michigan State University and author of Outsiders at Home: The Politics of American Islamophobia
About the Author
Hardcover:

 179

 pages
Publisher:

 

Naulit Publishing House
Language:

 

English
ISBN:

978-1734231267

Dimensions:

 

6 x 1 x 9 inches