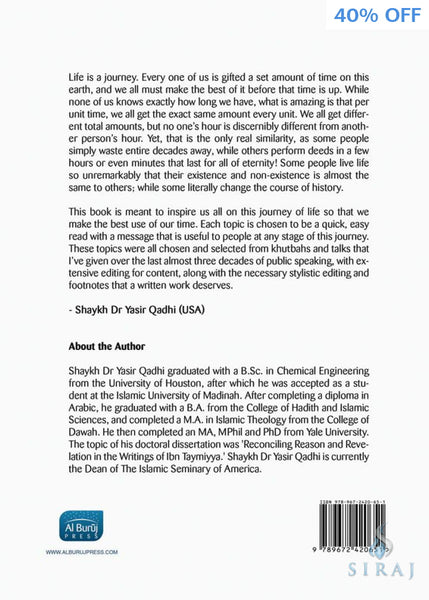 Al-Buruj Press
Reflections: Personal Insights from Shaykh Dr. Yasir Qadhi
Life is a journey. Every one of us is gifted a set amount of time on this earth, and we all must make the best of it before that time is up. While none of us knows exactly how long we have, what is amazing is that per unit time, we all get the exact same amount every unit. We all get different total amounts, but no one's hour is discernibly different from another person's hour. Yet, that is the only real similarity, as some people simply waste entire decades away, while others perform deeds in a few hours or even minutes that last for all of eternity! Some people live life so unremarkably that their existence and non-existence is almost the same to others; while some literally change the course of history.

About the Author
Dr. Yasir Qadhi was born in Houston, Texas and completed his primary and secondary education in Jeddah, Saudi Arabia. He graduated with a B.Sc. in Chemical Engineering from the University of Houston, after which he was accepted as a student at the Islamic University of Madinah.
After completing a diploma in Arabic, he graduated with a B.A. from the College of Hadith and Islamic Sciences. Thereafter, he completed an M.A. in Islamic Theology from the College of Dawah after which he returned to America and completed his Doctorate in Religious Studies from Yale University.
Currently, he is the Dean of The Islamic Seminary of America, the Resident Scholar of the Memphis Islamic Centre and a Professor at Rhodes College in Memphis, TN.
Paperback:
 165 pages
Publisher:
Al-Buruj Press
Language:
English
Author:
Dr. Yasir Qadhi
ISBN:
978-9672420651
Dimensions:
9 x 6 x 0.5 inches