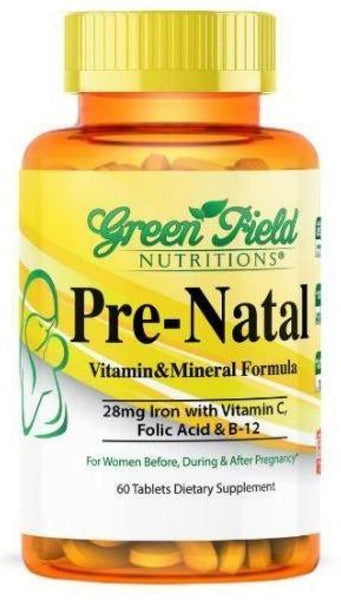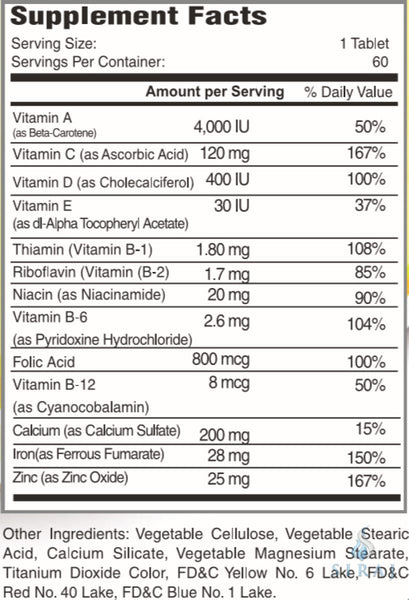 Greenfield Nutritions
Prenatal Multivitamin and Mineral Tablets
Prenatal product contains wide variety of multivitamin and minerals that are essential to the body of the mother before, during and after her pregnancy, as well as the fetus. Some of those vitamins and all minerals, may not found in the food.
Health Support:
B6 and B12 help the proper function and development of the brain, nerves, and blood cells, in addition to different areas of the body.*
Supports energy metabolism*
B1 and B6 help the body to properly use carbohydrates, proteins, and lipids and for healthy skin.*
Vitamin B1and B2 support the form and function of adenosine triphosphate (ATP), the key source of energy.*
B3 (Niacin) helps the function of fats and sugars in the body and maintains healthy cells.*
Folic acid is involved in producing DNA and other bodily functions.
Multivitamins and minerals support the fetus health.*
Contains 800 mcg Folic Acid for infant brain development.*
Supports oxygen circulation*
Iron carry's oxygen in the body to the baby during pregnancy.*
Vitamins A and C are antioxidants which protect the body for the harmful substances
Supports Bone, Immune and Muscle Health*
Vitamin D supports bone and teeth health by improving calcium absorption in the body, and supports function, strength and balance of muscle and immune health.*
Prenatal from Greenfield Nutritions
Greenfield Nutritions Prenatal formula contains all essential vitamins and minerals.*
Contains %100 daily value of Folic acid.
Contains B1 to B12 and vitamin C.
Contains 150% daily value of Iron.
Our product is USA Halal certified, free of pork and alcohol.
Made in the USA in GMP certified facility and FDA registered facility.
The product has a laboratory certificate of analysis for quality control.
Greenfield Nutritions Story
Greenfield Nutritions, Inc. is a nutritional firm, located in the Midwest of the USA, established since 2011. Greenfield Nutritions offers a wide variety of vitamins and dietary supplement products with superior formulas to help promote a healthy lifestyle and to serve a wide range of ethnic customers. Our ingredients and formulas are well selected by a team of pharmacists and chemists.
* These statements have not been evaluated by the Food and Drug Administration. This product is not intended to diagnose, treat, cure or prevent any diseases
Important information
Safety Warning
Do not use if imprinted seal under cap is broken or missing.
Directions
For adults take one tablet daily, preferably with a meal, or as directed by your doctor.
What Does Halal Certified Product Mean:
Halal product means the product and the process meet the Islamic requirements. In general, this means all product ingredients are free of animal and/or pork ingredients and alcohol, and the process of production follows the Islamic requirements and no contamination from other non Halal ingredients.
This process is determined by the Halal committee following more requirements in order to certify those products. 
Additional Instructions and Warring:
If you are pregnant, nursing, or taking any medication consult with your physician.
If you have any health conditions, consult with your physician before using the product.
Keep out of reach of children.
Keep bottle tightly closed. Store in a cool, dry place,
Legal Disclaimer
Actual product packaging and materials may contain more and different information than what is shown on our website. We recommend that you do not rely solely on the information presented and that you always read labels, warnings, and directions before using or consuming a product.