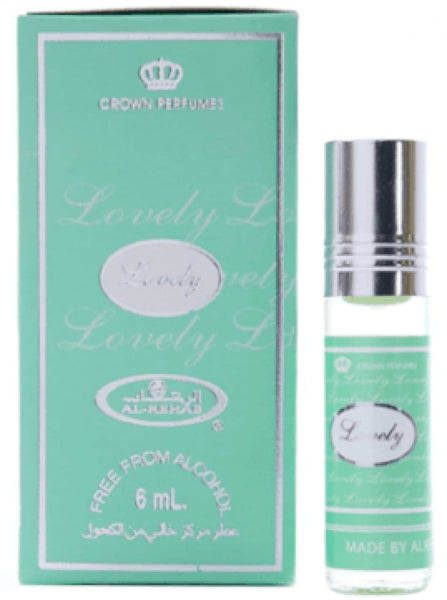 Al-Rehab Perfumes
Lovely
Lovely by Al-Rehab is a very soft, elegant perfume full of lightness and freshness framed by an alluring sweetness that invites you to dream. White Musk fragrance with flowers and delicate citrus notes.
Top Notes: 
magnolia, quince flowers, bergamot, green notes
Heart Notes: white flowers, noochromatic jasmine, orange flowers, white peach
Base Notes: wood, ambergris
Recommendation: Women
Al-Rehab is the Middle East's leading perfume manufacturer which creates fine traditional Arabian and oriental perfumes. High quality, exotic, long-lasting and is free from alcohol.  
One of the most popular perfume oils in the world. Inexpensive price does not sacrifice high quality. Unique blends with a variety of oils that can be used both by men and women. Comes in a 6ml (.2 Ounce) roll-on vials make it easy to anoint. Manufactured in the United Arab Emirates.
Size:  
Concentrated alcohol-free oil, attar, in a 6ml roll-on bottle