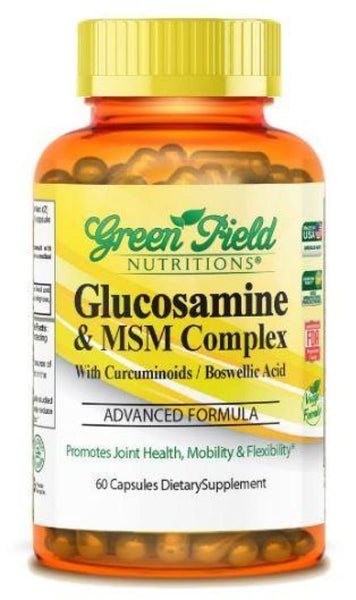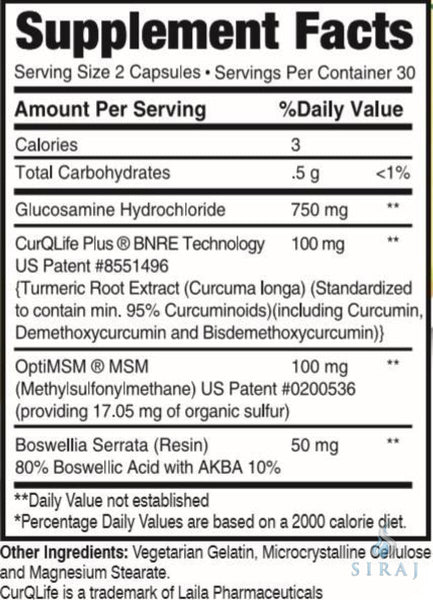 Greenfield Nutritions
Joint Formula Advanced Glucosamine MSM with Turmeric
Glucosamine is a component of the human body. It involves producing other components that are needed for building tendons, ligaments, cartilage, and the thick fluid that surrounds joints.  60 capsules.

Joints are cushioned by the fluid and cartilage that surround them. In some people with osteoarthritis, the cartilage breaks down and becomes thin. This results in more joint friction, pain, and stiffness.
Methyl Sulfonyl Methane (MSM)
MSM benefits overall joint health and normal range of motion to help keep body active, it also has been shown to improve joint stress, MSM also support mobility and protection of  healthy cartilage by acting as a cushion between joints
 Curcumin:
CurQlife is an all-natural patented, CurQ is the next stage in joint care supplementation, Arthritis is currently the number one cause of disability in the US,
The unique properties of CurQ allow for a 48-fold increase in Curcumin bio-availability into the body (10x higher free Curcumin than the market leaders)
By prioritizing bioavailability- the amount of curcumin that will reach systematic circulation- the body can utilize the curcuminoids for a wide range of applications
 Boswellia
Boswellia is a centuries-old herb that helps support joint health and comfort as well as protect against collagen degradation. Cartilage support is an essential component for the shock absorption system in the joints matrix.
 Health Support:
Anti-inflammation and act as antioxidant*
Supports Joins health and Comfort*
Supports mobility and production of healthy cartilage*
 Glucosamine/MSM with Curcumin from Greenfield Nutritions
Greenfield Nutritions Formula has a high absorption to the body through its improved formulation*
Vegetarian formula
Our formulas are free of pork products and alcohol, and they are US HALAL certified products, including the ingredients such as our veggie capsules. In addition, our

 

manufacturing facilities are Halal Certified.
Made in the USA in GMP certified facility and FDA registered facility.
The product has a laboratory certificate of analysis for quality control.
Greenfield Nutritions Story
Greenfield Nutritions, Inc. is a nutritional firm, located in the Midwest of the USA, established since 2011. Greenfield Nutritions offers a wide variety of vitamins and dietary supplement products with superior formulas to help promote a healthy lifestyle and to serve a wide range of ethnic customers. Our ingredients and formulas are well selected by a team of pharmacists and chemists.
* These statements have not been evaluated by the Food and Drug Administration. This product is not intended to diagnose, treat, cure or prevent any diseases
Important Information
Safety Warning
Do not use if imprinted seal under cap is broken or missing.
 Directions
Take two capsules together per day with a meal or one capsule twice a day with a meal.
 What Does Halal Certified Product Mean:
Halal product means the product and the process meet the Islamic requirements. In general, this means all product ingredients are free of animal and/or pork ingredients and alcohol, and the process of production follows the Islamic requirements and no contamination from other non Halal ingredients.
This process is determined by the Halal committee following more requirements in order to certify those products. 
Additional Instructions and Warring:
If you are pregnant, nursing, or taking any medication consult with your physician.
If you have any health conditions, consult with your physician before using the product.
Keep out of reach of children.
Keep bottle tightly closed. Store in a cool, dry place,
 Legal Disclaimer
Actual product packaging and materials may contain more and different information than what is shown on our website. We recommend that you do not rely solely on the information presented and that you always read labels, warnings, and directions before using or consuming a product.