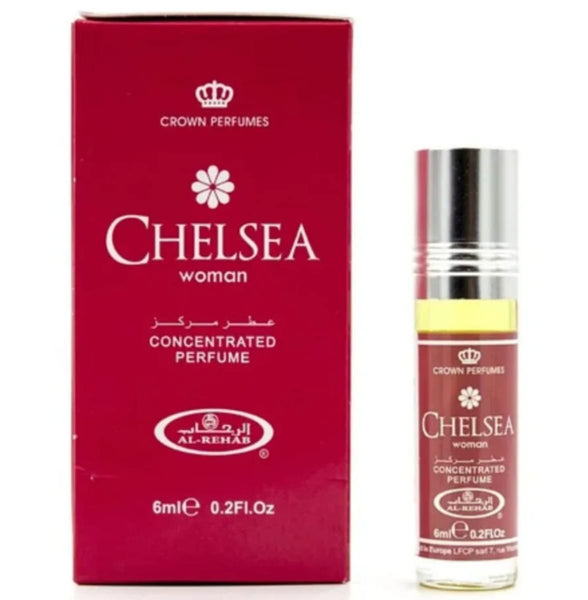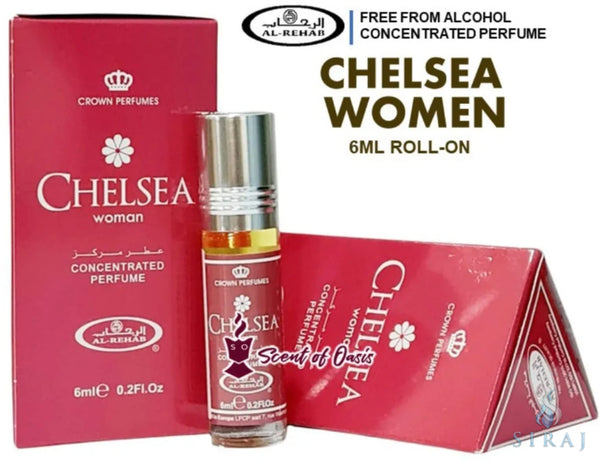 Al-Rehab Perfumes
Chelsea Woman - 6 ml Perfume
A luxurious, intoxicating fragrance for contemporary women. 
Bright and irresistible. 
Surrounds with a charming trail of creamy notes, woods, fills with vetiver chords. 
The fragrance ends with notes of patchouli and amber.
Perfume Chelsea Woman by Al-Rehab is a fresh and sweet perfume with floral-fruity notes.
The top note is subtle and slightly fresh with bergamot, pink pepper and apricots.
As the perfume progresses, it becomes warmer and fuller with blackcurrants, peaches, roses and white flowers in the heart note.
The final base is pleasantly warm and enveloping with amber and patchouli.
Chelsea Woman is a beautifully balanced everyday perfume that charms with its carefree blend of florals, fruits and amber.
Main accords: fruity, floral, fresh, sweet, sweet, amber
Top Note: bergamot, pink pepper, apricots
Middle Note: blackcurrants, peaches, roses, white flowers
Base Note: amber, patchouli
Recommendation: Women
Al-Rehab is the Middle East's leading perfume manufacturer which creates fine traditional Arabian and Oriental perfumes. High quality, exotic, long-lasting and is free from alcohol.  One of the most popular perfume oils in the world. Inexpensive price does not sacrifice high quality. Unique blends with a variety of oils that can be used both by men and women. Comes in a 6ml (.2 Ounce) roll-on vials makes it easy to anoint. Manufactured in the United Arab Emirates.
Size:  Concentrated alcohol-free oil, attar, in a 6ml roll-on bottle