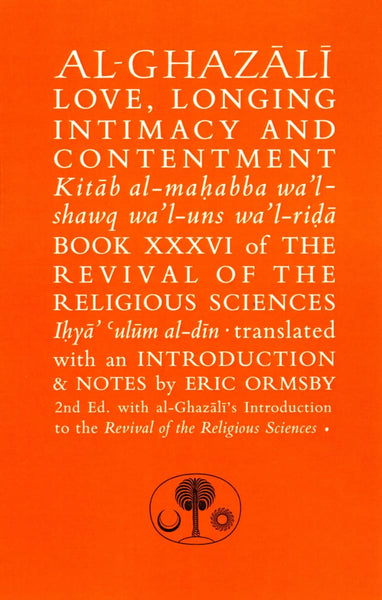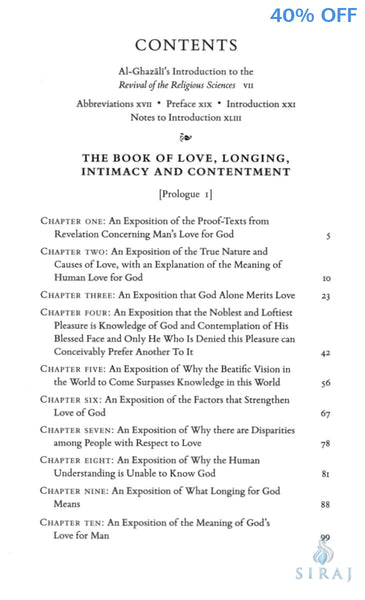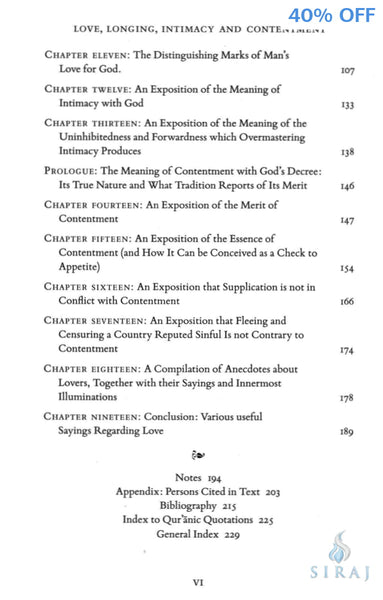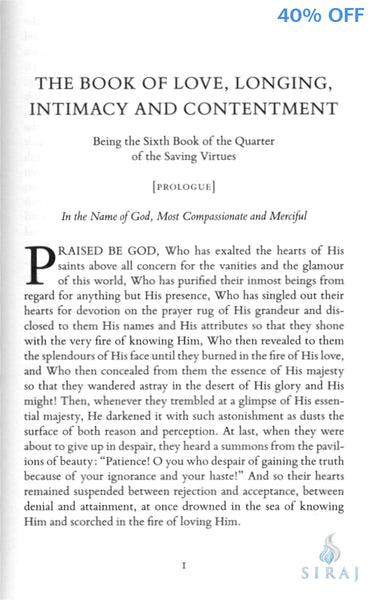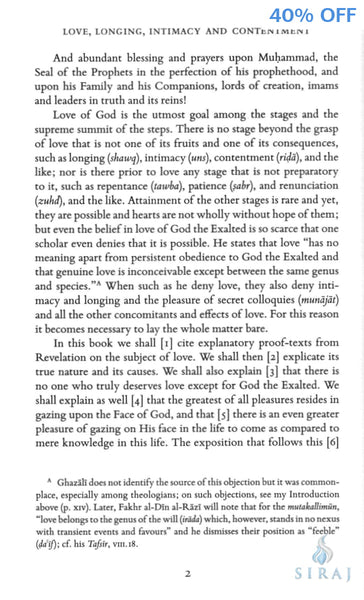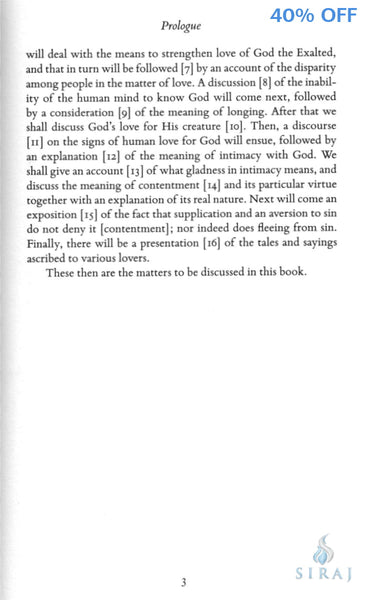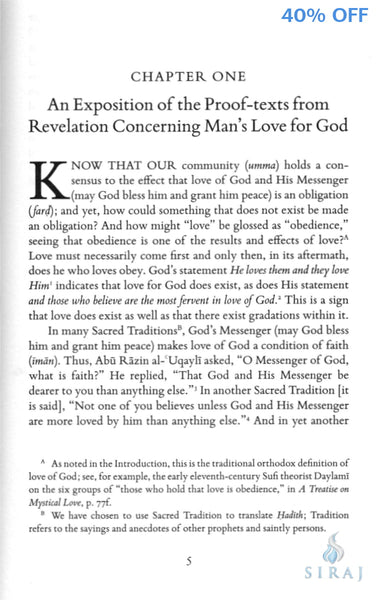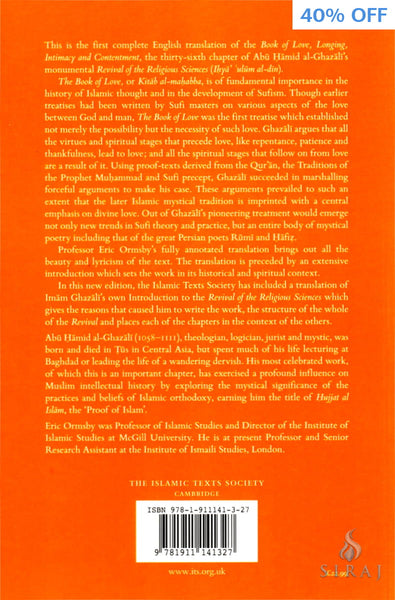 Fons Vitae
Al Ghazali Love, Longing, Intimacy & Contentment
 Al-Ghazali Love, Longing, Intimacy & Contentment is Book 36 of the Revival of the Religious Sciences, published by The Islamic Texts Society
As the first complete translation of a classic Arabic text written in the 11th century, this work is an eloquent introduction to mystical love in Islam. Considered one of the most important chapters in al-Ghazali's magnum opus 
The Revival of the Religious Sciences
, it consists of arguments that form the basis of Sufi theory and the practice of mystical love. Providing the book's historical and spiritual context, this account also offers insight into the poetry of such greats as Rumi and Hafiz.
This is the first complete English translation of the 
Book of Love, Longing, Intimacy and Contentment,
the thirty-sixth chapter of al-Ghazali's monumental 
Revival of
the
 

Religious Sciences.
The Book of Love, 
is of fundamental importance in the history of Islamic thought and in the development of Sufism. Though earlier treatises had been written by Sufi masters on the various aspects of the love between God and man, 
The Book of Love 
was the first treatise which established mot merely the possibility but the necessity of such love. Al-Ghazali argues that all the virtues and spiritual stages that precede love, like repentance, patience and thankfulness, lead to love; and all the spiritual stages that follow on from love area a result of it. Using proof-texts derived from the Quran, the Traditions of the Prophet Muhammad and Sufi precept, al-Ghazali succeeded in marshaling forceful arguments to make his case. These arguments prevailed to such an extent that the later Islamic mystical tradition is imprinted with a central emphasis on divine love. Out of al-Ghazali's pioneering treatment would emerge not only new trends in Sufi theory and practice, but an entire body of mystical poetry and lyricism of the text.
The
translation is preceded by an extensive introduction which sets the works in it historical and spiritual context.
About The Author
Imam Abu Hamid Muhammad Al-Ghazali was born in 450 AH (1058 A.D) in the Iranian town of Tus, studied Islamic law and theology at the Seljuq College in Nishapur, and became a distinguished professor at the famous Nizamiyya University in Baghdad.
Despite his glittering success, he was inwardly dissatisfied, so he abandoned his career for the life of hardship, abstinence and devotion to worship. During ten years of wandering, he experienced a spiritual transformation, in which the Truth came to him at last, as something received rather than acquired.
Blessed with an inner certainty, he then applied his outstanding faculties and vast learning to the task of revitalizing the whole Islamic tradition. Through his direct personal contacts, and through his many writings, he showed how every element in that tradition could and should be turned to its true purpose.
Imam al-Ghazzali was fondly referred to as the "Hujjat-ul-lslam", Proof of Islam, he is honored as a scholar and a saint by learned men all over the world and is generally acclaimed as the most influential thinker of the Classical period of Islam.
He passed away in 505 AH (1111 A.D).
About The Translator
Eric Linn Ormsby, born in Atlanta in 1941, is a poet, a scholar, and a man of letters. He was a long time resident of Montreal, where he was the Director of University Libraries and subsequently a professor of Islamic thought at McGill University Institute of Islamic Studies. Presently, he lives and writes in London, England, where he is Professor and Chief librarian at the Institute of Ismaili Studies.
Ormsby began writing poetry as a young man and began publishing in 1985. He has six poetry collections, Bavarian Shrine and Other Poems (1990), which won a Quebec prize for the best poetry of that year, Coastlines (1992), For a Modest God: New & Selected Poems (1997), Araby (2001), Daybreak at the Straits (2004), and Time's Covenant (2006). His poems have been published in various journals and magazines such as The New Yorker and The Paris Review and anthologized in The Norton Anthology of Poetry. He has also authored a book of essays on poetry and translation, including Arabic literature. The Wall Street Journal and New York Times among others publish his book reviews regularly.
Series: Al-Ghazali The Revival Of The Religious Sciences (Ihya Ulum Al-Din) Book 36
Paperback: 280 pages
Publisher: Fons Vitae
Language: English
Author: Abu Hamid Al-Ghazali
ISBN: 978-1911141327
Dimensions: 9.2 x 6.0 x 0.9 inches